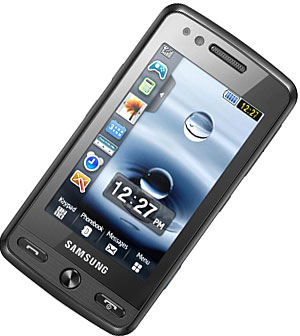 With a spec sheet to rival budget cameras, Samsung's ultra thin M8800 should really be thought of as a camera with a phone attached rather than just an 'umble cameraphone.
The handset comes with a 8 megapixel sensor with autofocus, backed by Dual Power LED flash, ASR (Advanced Shake Reduction) and WDR (Wide Dynamic Range). Keeping up the camera-heavy features, there's an Auto Panorama Shot feature, geotagging support (via the integrated GPS) and a photo browser (Accelerometer Sensor, Tilt and flip with sorting by Face/Time/Colour/Folder).
The camera is capable of taking impressively high quality movies – 30 fps D1 (720 x 480) video capture – with a 120 fps (QGVA) slow motion video capture option for at-home remakes of the 6 Million Dollar Man – plus Face Detection, Smile Shot, Face Link (face tagging) and Photo memo.
There's support for MPEG4, WMV, DivX and XviD video playback and a 'Fast Shutter', all of which makes the M8800 a real rival for a standalone camera apart from one detail – instead of a proper optical zoom, the camera only comes with a 16x digital zoom. And, as you know, digital zooms are rubbish compared to optical ones.
Ah right – we almost forgot – it's a Quad Band GSM (850/900/1800/1900)/GPRS/EDGE phone too, with WCDMA 2100/HSDPA 7.2 Mbps connectivity with a built in FM Radio with RDS.
The front of the keypad-less unit is dominated by a 3.2″ 240 × 400 262K colour WQVGA TFT display, and inside lurks a music player supporting MP3, AAC, e-AAC+, e-AAC+, WMA audio formats.
For your audio pleasure, there's SRS (Surround Sound System) Virtual 5.1CH, DNSe (Digital Natural Sound engine) with Bluetooth 2.0 and USB 2.0 for shuffling files on and off the phone.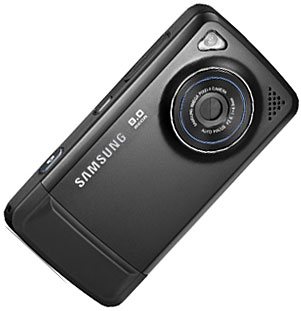 Samsung's new Pixon M8800 phone camera is scheduled for a France release around the middle of October with Europe and Asia following sometime after. as for pricing, we can only offer a Gaelic shrug.
LG KC780 says: "Ackshully, we're the slimmest!"
Keen to spoil the party, LG has charged onto the head table, jumped up on the table, kicked over a few bottles of champagne and announced that is is the rightful heir to the title of the the slimmest 8MP cameraphone in the known universe.
Details of their offering are still thin on the ground, but the company are claiming that their affordable 13.8mm thin KC780 sliding phone is the slimmest, slinkiest thing in town, making Samsung's offering look like a pie-scoffing lardy boy.
So far we've learnt that the phone will be a quadband jobbie with GSM, GPRS/EDGE connectivity, with an 8 megapixel snapper with autofocus, red eye reduction, face recognition and 30fps video recording.
There'll also be 140 MB of internal memory, a microSD memory card slot and Bluetooth 2.0 and USB 2.0.