Mike has forgone the usual drinks and random chatter that you get at a launch and replaced it with writing you all this report – What a lovely fellow. Coming to you … near live from the Treo Pro launch …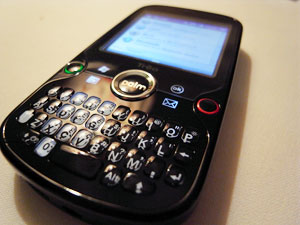 This afternoon the Digi- Lifestyles crew and assorted hacks, freeloaders and blaggers shimmied into the comfortable surrounds of The Hospital Club in Covent Garden, London for the UK launch of Palm's new Treo Pro phone, a Windows Mobile device designed to let "mobile workers to stay on top of both their professional and personal lives."
We gave our favourable first impressions on the Treo Pro handset last month, and we'll be looking forward to giving the device a thorough testing over the coming weeks.
The Treo Pro certainly looks an attractive number with its slimline glossy black lines, and comes with a natty one-touch Wi-Fi button, built in GPS, 'Today' screen enhancements (letting you search the web directly from the home screen), 3.5mm headphone jack (hurray!) and Palm's time-honoured ringer switch to immediately silence the device.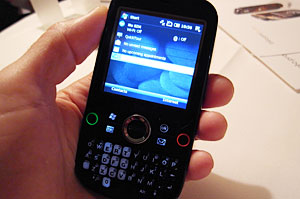 There's a handy screen saver offering time/missed call/SMS and MMS notifications without having to turn on the device, and a very sleek flashing voicemail indicator lurking in the centre button with dedicated email and calendar buttons giving nippy one-button access.
The Treo Pro will be available in the UK from today, through Vodafone and O2 with contract prices starting from free. There's also an unlocked version available through the Palm online store at a pricey
suggested retail price of £399.
It's certainly Palm's slimmest and thinnest offering and our initial reaction is pretty positive.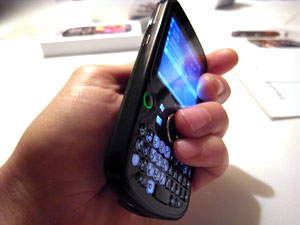 Even before the Q&A session at the end, we were told to zip any questions about the forthcoming Palm OS ("early 2009") and an interesting snippet came out when the Palm rep was asked, "will Palm be releasing an affordable email device?"
"Watch this space," he answered with a knowing grin.
Sadly, there was no Palm Pros for us to take home (although the tasty buffet went some way to placating the journos), but we've been promised the phones in a day or two. We'll be posting up a review soon.