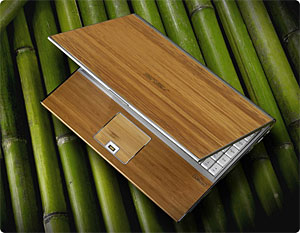 We love babbling PR tosh, so when a spectacularly ludicrous pile of techno-hyperbole oozed into our inbox from Asus, we simply had to share it with you lot.
The company wrote to tell us all about their 'Bamboo Series' of laptops – consisting of 12.1″ and 11.1″ models powered by Intel Core 2 Duo-powered processors – which are being trumpeted as "spurring the Green Computing Revolution," no less.
But these are no ordinary laptops – no sir!
Regaling in 'artisan-grade Moso bamboo paneling', Asus insist that their mix of "organic tactility, refreshing scent and minimalist aesthetics" apparently gives the laptops "an arresting aura of spirituality, warmth and old world charm that synthetic materials and cold, impersonal metals will struggle to replicate."
And there's more, with Asus getting all poetical about what it's like to touch the laptops. Get a load of this trumpery:
"With every touch, users will be able to feel the difference – the bamboo gives an instant sense of familiarity, just like the sensation one would get from running one's fingertips across furniture. The sensation of being close to nature is even conveyed when users use the touch pad. The genuine bamboo fiber patterns on the touch pad create the sensation of touching live bamboo."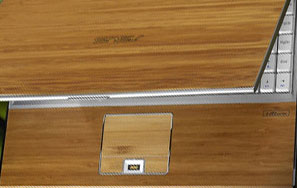 Asus are so hyped up about their green credentials that they've taken to dishing out lectures to others: "For solution providers, the key to going green entails looking beyond mere legal compliance and proactively inculcating green values among staff. ASUS is the beacon of success for this approach."
Ya. Rly.
Once we'd had a little bit of a sit down to recover from the pungent whiff of wafty PR nonsense, we took a closer look and found that there's quite a lot to like about these laptops.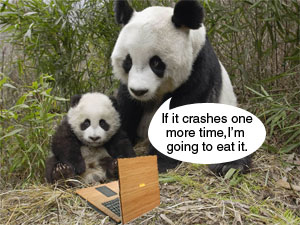 For starters, they look great. Compared to the usual dull black boxes and shiny silvery concoctions knocked out up by trendy laptop makers, the Asus laptops have a refreshingly natural look – although we wouldn't go as far as ascribing any kind of spirituality to the things. Well, not unless we'd been on some particularly potent drugs.
Lurking inside the 12.1 screen model there's a choice of Intel T9400/P8600/P8400 Core 2 Duo processors, 256MB nVidia GeForce 9300M GS graphics with up to 4GB of Dram, backed by a 320GB hybrid hard disk drive with 256MB of Flash, with the smaller 11.1″ screen lappie offering a regular 80-120GB HDD and a 32GB SSD.
Both laptops use Asus' new Super Hybrid Engine power-saving technology which promises an increased battery life of some 35-75% against similarly spec'd notebooks. Very nice.
We've no idea on pricing yet, but we suspect all that panda-depriving bamboo is going to hike the retail price in an unpleasantly upward direction.