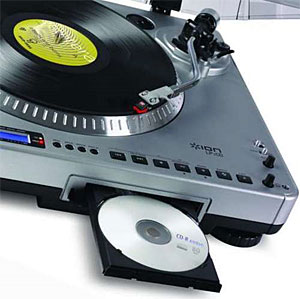 If you're still feeling the love for your old vinyl tunes but the thought of getting up from your Ottoman every twenty minutes to turn over Supertramp's 'Crime of the Century' is too much to bear, then the Ion LP 2 CD combo record player/CD burner could be for you.
Although there's been several turntables available offering a USB output for converting your precious Python Lee Jackson 12 inchers into digital formats, they've all needed a PC to be attached.
However, the Ion offers up an all-in-one, PC-free solution, so that it's simply a case of slapping on your chosen LP, pressing the record button and then letting it do its digi-converting stuff.
Vinyl tunes are automatically converted into digital sound files and stored on the built-in flash memory offering up to 80 minutes of music storage, with track recognition sensing the gaps between songs. Once you've finished rocking to your fave Jethro Tull LP, slam in a blank CD-R and hit the 'burn' button and it's a case of job done.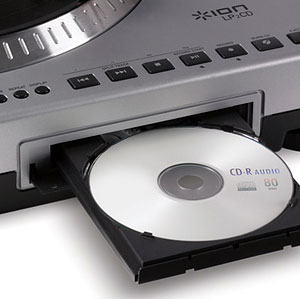 The Ion turntable can burn 33, 45 and 78 rpm records straight to compact disc, and you can use the standard RCA line out socket to hook it up to a stereo when you feel the need to rock out to Barclay James Harvest.
All this fuss-free convenience of computer-less vinyl burning doesn't come cheap though, with the Ion costing a cool £299 – and for that price you could buy the wonderful Rega P2 – a turntable that would take the Ion around the back of the bike sheds and give it a sound thrashing – and you'd still have change left over for a decent phono to USB interface.
But the Ion is all about convenience over hi-fi buffery, and it certainly offers the easiest way we know of to transfer vinyl to CD – and if you feel adventurous, you can use the bundled USB cable and included software to transfer tunes directly to your PC.
Specifications
Mains powered – UK 3 pin 240 volt
USB output (cable included)
Line Out, standard RCA socket
Line In, standard RCA socket
CD Burner accepts all CD-R discs
LCD display for menu functions and features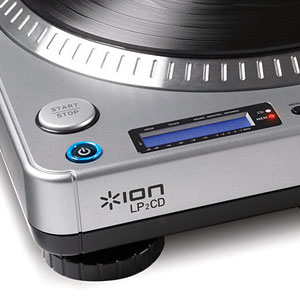 Menu/Display/Erase/Split Track buttons
Rewind/Fast-forward/Stop/Play-Pause /Record/Burn CD/Open-Close buttons
Headphone input
Headphone volume control
Record level
Phono/Line switch to change between recording from records or another Line in device
33/45/78 RPM Switch
Internal Flash memory of 7000Mb of data which equals approximately 80 minutes of music with a 99 track number limit
Package Contents:
Turntable with dustcover
Cartridge
Slipmat
45 RPM adapter
USB Cable
Counterweight
Software Installation CD
Quick Start Owner's Manual
Ion Safety/Warranty Instructions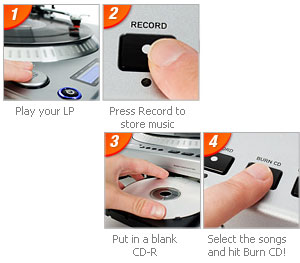 System Requirements:
PC
Windows XP or Vista
500 MHz Pentium processor or higher
QuickTime 7.1.6 or higher
Mac
OS X 10.3.9 or higher
500MHz G3 processor or better
QuickTime 6.5.2 or later
Internet connection for track listing
256MB RAM (minimum)
USB 1.1 port or higher
CD-ROM drive or better
Dimensions:
Approximately: 45.5cm (W) x 39.5cm (d) x 15.5cm (h)