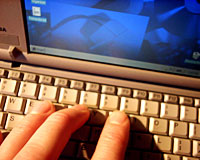 We heard news from Gary McKinnon's law firm, Kaim Todner, that the European Court of Human Rights ('ECtHR') has ruled against their recent application to have Gary's extradition to the US halted.
The temporary prohibition of McKinnon's extradition, as granted by the ECtHR on 12 August, is now effectively lifted and the authorities of the United Kingdom are now free to extradite our client to the United States.
Summary – all legal routes have been exhausted, so it's looking likely that he'll be on his way to the US.
It appears that the only potential to stop Gary being extradited is that he has recently been diagnosed as suffering from Asperger Syndrome. As a result, his law firm will be writing to the Home Secretary again inviting a prosecution in this country rather than the US.
UK offences – UK prosecution
McKinnon's law firm, Kaim Todner, are keen to point out that the offences that Gary is being extradited for were carried out on British soil, they said "we maintain that any prosecution of our client ought therefore to be carried out by the appropriate British authorities. Our client now faces the prospect of prosecution and imprisonment thousands of miles away from his family in a country in which he has never set foot."