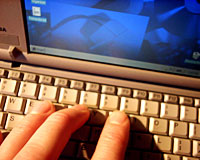 You'll remember that UK 'hacker' Gary McKinnon had lost his House of Lords Appeal at the tail end of July.
He's attempting to stop his deportation to America to be tried on hacking charges.
He and those in his defence camp, including his lawyers, Kaim Todner LLP, will be breathing a sigh of relief, for the next two weeks at least.
We've just heard that the Presidents of the European Court Human Rights will hear his application, before the full Chamber, on 28th August 2008.