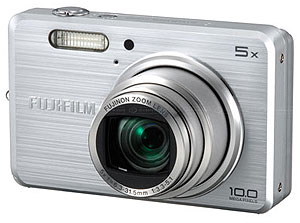 The cats at Fujifilm's New Product department have been busying themselves of late, with a veritable litter tray of new digital cameras ready to roll out to the masses.
No less than four additions to their J series of digital compacts have been announced, regaling under the names of the FinePix J100, J110W, J120 and J150W.
The no-fuss 'family' cameras offer a pile of pixels at affordable prices, with the J100 range offering a core specification of a 10MP sensor and 5x optical zoom lens, with the LCD size and lens quality improving as the price shimmies upwards.
The FinePix J110W and J150W cameras come with a wideangle 28mm to 140mm zoom lens, while the FinePix J100 and J120 cameras stretch out to 175mm but lose the wideangle option, starting at a 'standard' 35mm.
The cheaper J100 and J110W cameras offer 2.7″ LCD screens, but wave your wad a little more vigorously and you can luxuriate in the glow of the 3″ screens that come fitted to the FinePix J150W and J120 digicams. All screens pack 230,000 pixels and are amorphous silicon TFT LCDs.
The FinePix J100 series cameras are fairly slimline little chaps, measuring 22.6mm wide and coming in a brushed aluminum metal shell which Fujifilm assures us is a "simple, yet elegant design, which will turn the eye of the most discerning of consumers." Ya Rly.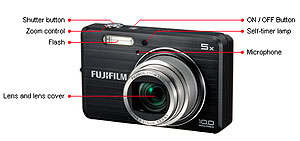 All the Fuji cams come with a rechargeable NP-45 lithium-ion battery and CP-45 charger and pack ISO sensitivity up to 1600, software-based Face Detection with auto red-eye removal, 13 different shooting programs (Landscape, Sport, Night, Natural Light, Fireworks, Beach, Snow, Sunset, Flower, Party, Museum, Text, Manual), Picture Stabilisation, Continuous Shooting and 24MB of internal memory.
There's no UK pricing yet, but you can wallow in afeast of info and specs at Fujifilm's website.
Fujifilm F60fd
Fuji has also parped the PR trumpet on the forthcoming addition to its FinePix F series of compact digital cameras, the Fujifilm F60fd.
Employing their seventh-generation 12.0 megapixel Super CCD, the F60fd uses the same 3x optics and Dual Image Stabilisation system seen on the F50fd and adds Fuji's Face Detection 3.0 and a host of automated scene detection modes.
The company claims that their SR AUTO technology "automatically identifies subjects, scenes and faces and adjusts exposure, focus, white balance and ISO accordingly to ensure clarity and sharpness, regardless of background."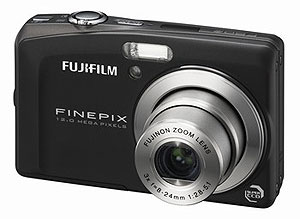 There's also aperture and shutter priority modes to keep exposure-fiddlers happy, with full resolution shooting up to ISO 1600, with ISO 3200 and 6400 available at progressively lower resolutions.
Happily, there's compatibility with both SD/SDHC and xD-Picture Card memory cards, with the camera priced around $300 and set to hit the shops in September.
For more info, nudge your mouse's little pointer in the direction of Fujifilm.com