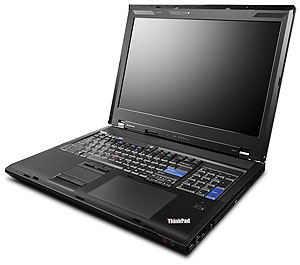 Substantial amounts of desirous drool were seen dribbling from the mouths of our graphics department with the announcement of Lenovo's ThinkPad W700 mobile workstation.
Created for graphics professionals, photographers and designers on the move, the W700 packs a bright (400-nit) 17-inch display with a resolution of 1920×1200 (WUXGA) and beefy Intel Extreme Quad-Core processors, but what makes this laptop really stand out from the crowd is the inclusion of an optional built in Wacom digitiser and colour calibration unit.
The small digitiser lurks on the palm rest area and can be mapped to the entire screen or to an area defined by the user, while Lenovo claims that calibrator will automatically adjust the display's colour in 'up to half the time' of many external calibrators and with 'higher accuracy',
The W700 is the first laptop to use NVIDIA's new Quadro FX mobile graphics card which can come with up 1GB of dedicated video memory and there's also support for up to 8 GB of high speed DDR3 memory (with an additional 2 GB of Intel Turbo Memory), and an optional Blu-ray DVD burner/player.
There's two drive bays on offer with support RAID configurations, with users able to fit 5400RPM drives (250GB or 320GB), 7200RPM drives (160GB or 200GB) or Solid State Drives (64GB, 80GB or 128GB) – and if you still need more storage space you can swap the optical drive for a third hard drive or SSD, offering up to 960GB in capacity.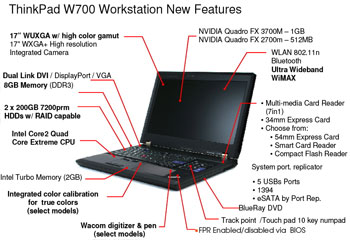 Naturally, there's WiFi wireless connectivity onboard, with the option to add Bluetooth and ultra wideband technology with WiMAX available later this year.
The mobile workstation also supports Dual Link DVI, Display Port and VGA and comes with a 7-in-1 multicard reader, five USB ports, an optional mini-dock adding eSATA and digital audio ports, BIOS/port disablement and an optional fingerprint reader and full-disk encryption.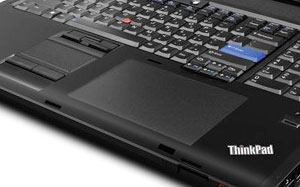 Unleashing the beast, Peter Hortensius, senior vice president, Notebook Business Unit, Lenovo, commented: "Lenovo has engineered a new breed of mobile workstation with the ThinkPad W700. No other PC manufacturer has a mobile workstation that delivers the sheer power, performance and cutting-edge innovation that Lenovo has packed into the ThinkPad W700. The ThinkPad W700 mobile workstation flat out delivers the command performance our customers demand at the desk as well as in the field."
The ThinkPad W700 mobile workstation will be available beginning in September and it's as pricey as you might expect, with prices starting at $2,978 upwards and rapidly soaring upwards.
Check out the videos from notebooks.com for more info: