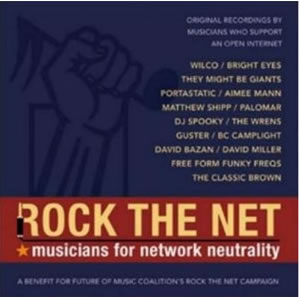 Indi Music Worldwide Fights For Net Neutrality. UK release of Rock The Net CD designed to bring attention to the cause.
Net Neutrality
We've been covering Net Neutrality for over two years now.
We think it's essential that the Internet is free and open. It's vital that the speed of arrival of each data-packet that travels over the Internet is not dependant on if the ISP makes the decision to slow down its arrival.
Equality of delivery is what the free-Internet is based on. It's fundamentally wrong that pressures from commercial organisations should change your Internet experience.
Rock The Net
Rock The Net is a campaign supported by many bands, large and small, that feel that Net Neutrality is vital too.
With names like R.E.M. and Pearl Jam on the roster it's been gathering a lot of attention – rightly so, this stuff is important.
The Rock The Net CD is compilation of tracks put together by Thirsty Ear Recordings, with artists including Wilco, Bright Eyes, They Might Be Giants, Portastatic, Aimee Mann, Guster, Matthew Ship, Palomar, The Wrens, DJ Spooky, BC Camplight, David Bazan, David Miller, Free Form Funky Freqs and The Classic Brown.
The disc is designed to bring attention to the Net Neutrality cause, as well as raise some funds.
If you think that a free Internet is a good idea, buy the disc and let your friends know how important Net Neutrality is.
It will be in 'all good shops' on 25 August.