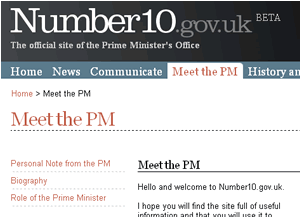 There's a big potential of this story being such a classic own goal by the UK Government, it's hilarious – what's not been clear are the facts.
Downing Street, the UK Prime Minister's official office has launched a new Website based on WordPress.
There's a growing voice that the site's template — the layout of the Website — has been, at least in part, based on work by Anthony Baggett.
Anthony's template is free to download, but is licensed under Creative Commons, where he must be acknowledged as the author in other works based on his.
We don't have the time … or the inclination … to compare the Downing Street coding with Anthony's, but one of the amazing things about the Internet is that some people are willing to do this and share their findings.
The Open Sourcerer has done an amazing job of carrying out an analysis that is worth reading.
Word from Downing Street
The official story from the Downing Street Press office was unsurprisingly dry …
They had the site developed by external agency using open source software. The Crown Copyright that is referred to on the site covers the words and content, not the design.
Word from the Developer
We called the design firm behind the site, New Media Maze, to get their side of the story.
After initially pointing us to the Downing Street Press office, they told us their side of the story, which included the following …
"the css file draws on a small part of Anthony's CSS, and the theme folder name still bears his theme name, none of the rest of the files are based on his code."
They also counter the claims of some sources that the original author of the theme had requested acknowledgement on sites that used his template. In NMM's words, that Anthony's theme "makes no reference to a requirement to link to Anthony's site in the footer of the template."
The majority of the rest of it goes on to cover how they had communications with Anthony from Monday onwards and that they weren't that happy with the outcome.
Classic PR Distraction – Clarkson Video
You may have seen some of the UK press covering the release of a video by Downing Street which challenges the idea that a TV presenter should be Prime Minister.
It looks like it's been put together in about an hour, and to us is a classic PR distraction job – potentially embarrassing story is coming to the surface, let's put something out that will keep the papers busy, while we play down the original story. Looks like it's working so far.