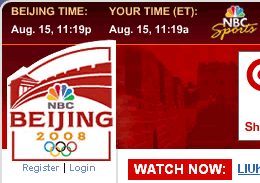 When I was in Beijing last year there was a lot of talk of the current Olympic being the first 'Broadband Olympics.'
It appear that for one US broadcaster, NBC, it's becoming true.
The number of people accessing their Olympic coverage are highly impressive. After a week of the Games, NBC have had 25 million unique visitors to their NBCOlympics.com site.
The big numbers don't stop there. 22 million video have been watched from there, totalling 3.5 _million_ hours of video.
The Web page viewing haven't been too shoddy either, with 485 million pages having been viewed.
Silverlight 2 Being Pushed
Microsoft have cleverly leveraged themselves between these huge number of Olympic viewers and the video content, forcing people wanting to see them to install Silverlight version 2.
A fantastic way to get the latest version of Silverlight installed on as many computers as quickly as possible.
Moves like this will help in Microsoft's desire to try and compete with Flash and its simple video playback ability.