Yesterday we gave an overview of the Teac Reference DR-H300DAB and looked at its usability.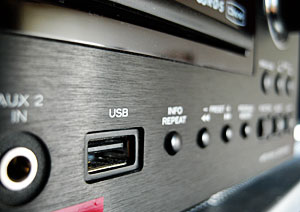 Viewing tests
The Teac did a pretty job playing back DVDs through a conventional TV and it even had a pretty good stab at upscaling to 720p and 1080i video resolutions, although a few jagged edges and over-bright colours occasionally gave the game away.
We had no problems playing back both JPG files and camera movies stored on a USB stick, although the interface is a bit clunky and reminiscent of ye olde Windows95.
Sound quality
We paired the DR-H300DAB with a pair of the excellent Eltax Monitor III speakers which at £70 per pair are a good example of the kind of budget priced units that average buyers might consider.
Slamming in a few of our favourite CDs we were immediately impressed with the smooth, accurate soundstage with a crisp mid range and none of the harsh treble screeching you can sometimes hear on mid priced systems when they're pushed hard.
The bass proved fairly weighty if a little light for our tastes – 'ardcore drum and bass nuts might want to make use of the sub woofer output.
We were a bit disappointed with the volume – the speakers we were using were pretty efficient but we felt a little short changed when we cranked things up, although it should be plenty loud for most users.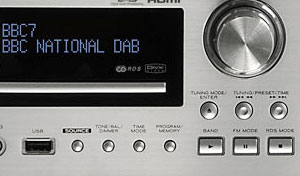 There's no bass or treble controls, although there's four preset options for classic, jazz, rock and pop. None of then improved the sound in the slightest, so we stuck to the 'flat' option. There's also a 'superbass' and 'loudness' button that did equally ghastly things to the sound, over-compensating the bass to produce a over-rich, bottom heavy sound.
On a whim, we did some A/B listening tests with a 15 year old Audiolab 800A amp, a venerable audiophile British amp that can be picked up on eBay for around £100. We thought that the onward march of technology would have seen off the old Brit veteran, but it absolutely blew away the Teac. The bass was deeper and tighter, the mid-range warmer and tighter and the whole listening experience was more 'musical'.
Of course, we're not really comparing like with like here and most people buying hi-fi compacts are after convenience rather than audiophile perfection but we were surprised by just how much better the old amp was…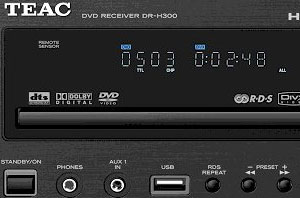 The verdict
Although the lack of Wi-Fi and onboard hard-disk storage stops this from being a truly modern entertainment system, its keen pricing, decent sound, useful USB port and DVD functionality makes it a good choice for the bedroom or smaller living rooms.
So long as you're not looking to recreate a Motorhead concert in your front room or lusting after true high fidelity performance, the DR-H300DAB is a well balanced, good sounding CD/DVD player/DAB radio combo that serves up decent video quality in a compact package that won't break your bank balance or dominate your room.
It's fairly straightforward to use, does just about everything you might ask of it, and is pretty easy on the eyes too.
Available in either shiny silver or moody black, the DR-H300DAB comes with an Internet price hovering around £250-£290, and we'd recommend it as a good all-rounder well worth considering.
Scores on the doors
Build: 80%
Features: 82%
Sound quality: 72%
DVD quality: 70%
Usability: 67%
Value for money: 80%
Overall: 74%
Specs: DR-H300DAB Black- Reference 300
Plays DVD-Video
DAB(Band-III)/FM RDS tuner
HDMI Out with upscaling
Plays DVD-Video, DVD+R/+RW,
VCD, SVCD, CD, CD-R/RW, MP3, WMA,
JPEG, DivX discs
DAB(Band-III)/FM RDS tuner
MP3 decoding
Progressive scan
HDMI Out Component video out
S-video out
Composite video out
Scart
Audio: In x 2 Out x 1
Optical and coaxial digital out
USB: x 1
Binding-post speaker terminals
Subwoofer preout
Headphone jack
Remote control
Dimension: 215 x 110 x 360mm, 4.5k