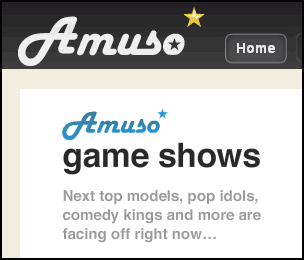 The premise behind Amuso, that is publicly launching this week, is to give people a place that they can create their own game shows and let them lose with their vivid imaginations to produce whatever games might snag people's attention.
The people who take part – either as games producers/organisers or as winning contestants stand to make some money, prizes or Amuso credits too.
Amuso credit can also be earned by playing games and rising up the leader boards.
Prizes are set up by the game sponsors which can either cash, or real-world prizes.
With a slight lack of modesty, Amuso say, "from today, game shows will never be the same." After our brief play with it, we're not quite sure if this is the case, but it certainly was quite engaging for the while we played with it.
As with all of these socially-focused sites, its success will be down to if people use it, or more importantly, if people create engaging games.
They've wisely built up a stock of content, via a closed beta, so there's a lot on there for you to get involved with already.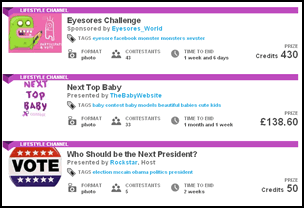 It caught our eye that our favourite UK festival, Bestival on the Isle of Wight, is the focus of one of the competitions up there already.
At present, most of the existing games appear to be photo-based in a Hot or Not style, but video can also be used.
The game organisers can also choose to charge for entries into the game, either via Paypal or SMS. We'd imagine that this would become more prevalent once lots of people start playing.
As well as individuals creating games, Amuso is also open to corporates and charities getting involved, with The O Campaign being a good example.
The project is bound to get attention because of some of the money behind it came from early stage investors of Skype, Joost, etc.
Get yourself over to Amuso and have some fun.