Compact receiver packs hi-fi performance and DVD playback in a stylish package.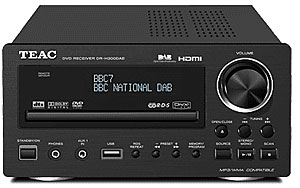 Looking dapper with its old-school looks, stylish brushed steel finish and promising oodles of hi-fi goodness is Teac's DR-H300DAB DVD Receiver.
Aimed at space-strapped folks looking for a lorra entertainment without the need to fill up the room with half of ton of cables'n'components, the DR-H300DAB packs a CD player (CD-R/RW, MP3, WMA, PictureCD and DivX; 3.11, 4.x, 5.x) and a DAB/FM RDS receiver.
Unusually, there's also a DVD player onboard offering 14bit/165MHz Video DAC and Progressive Scan and happy to play back SA-CD, DVD-Video, DVD+R/+RW, VCD and SVCD formats.
The Teac sports a Dolby Digital Decoder and DTS Digital Out, with the HDMI output able to upscale movies to 1920 x 1080i or 1280 x 720p, and the unit offers an on-screen display, plus the usual digital clock with sleep timer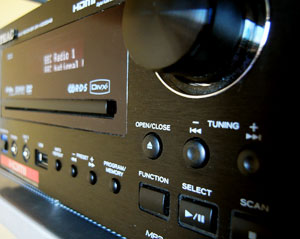 Underneath the large LCD display, there's a handy front mounted USB slot letting you slam in your USB stick or portable device and play back any stored images, movies and music files, with the adjacent headphone socket keeping the neighbours happy at night.
Taking a peek around the back, there's a fair few connectivity options to be found, including composite video out, Scart, audio: in x 2 out x 1, optical and coaxial digital out, sub woofer pre out and binding-post speaker terminals.
Usability
We encountered no major problems in using the controls of the Teac, although some gripes quickly surfaced, the most annoying of which was its habit of turning on the TV every time we put in a CD, because it wasn't smart enough to work out if it was an audio or a video disc.
We didn't like the push button function selector making us cycle through all the choices every time either: a rotary switch would be far better. We could have used a few more inputs too.
As with most mid-price receivers, the CD/DVD tray was a flimsy looking affair and not something to be trifled with after a few pints.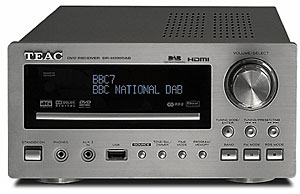 The remote control, while mot exactly a looker, was functional enough.
Pleasingly, the A4, 60-page manual didn't offer the usual United Nations roll call of a zillion languages (including Klingon), but every page was in English with the large text and clear illustrations helping users get to grips with their new purchase.
However, we still found ourselves having to consult the manual one or two times more than we'd like as some aspects of the unit's functionality wasn't as obvious as we hoped. Or perhaps we were just being a bit thick.
Tune in tomorrow for part two and our verdict.