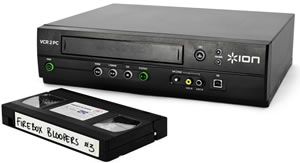 Remember when we broke the story of the USB tape deck?
The latest bit of USB kit for digitising your media from Firebox is a USB VHS machine.
Made by the same company, Ion, that did the USB tape desk, it's designed to be as simple as possible to use.
Once it's plugged into the computer, the supplied software is designed to make it as simple as possible to convert, we're told.
It converts to 'many' different formats, for transfer to format such as PCs, iPods, PSPs, DVD.
Hurrah to say that it's able to captures at 720 x 576 in both NTSC and PAL formats, so both US and UK video formats will be fine.
Those who take the plunge and buy kit like this may well be digging back in their VHS collection — we know ours is frighteningly large, going back a couple of decades — so expect plenty more 'vintage' video popping up on video sharing sites.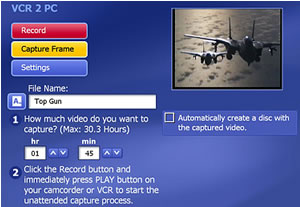 It costs £149 and is available from Firebox now.
At £150 it might sound a little expensive, but VHS machine are pretty hard to get hold of these days, this combined with the simplicity that device appears to have, and avoiding having to gather the other bits of computer kit you'll need to achieve the same, could make it all too tempting.
We hope to get our hands on the kit and try it out. We'll keep you informed.