We popped off to the Firebox "Xmas in July" do last week and we saw loads of goodies that they'll be bringing out between now and christmas.

The first that we'll bring to you is the Ion Tape2PC. We all know about the Ion Audio USB turntable and how popular they've been.
Not one to stay still Ion have now moved on to capturing other digital media.

Dig out all of your old audio tapes, as Ion will soon be bringing out the USB Tape Deck. Not only does it rip your old faves, but it will let you copy them too to other tapes (dubbing as it's called in the trade) – if you can find the media still.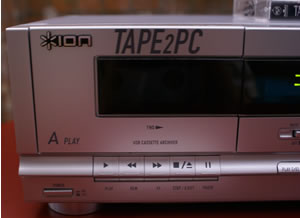 We're told that you simply plug it into the USB port on your PC or Mac as there's no drivers needed. You'll find two bits of software in the box, Audacity (Mac and PC) and EZ Tape Converter (PC) – which will take your recording straight into iTunes.
The old school among us will remember that cassettes had different quality of tapes, and the Ion deck has a switch for both Metal and CrO2 tape selector.
Rock on and get retro.
Firebox say that they'll be selling it for just under £100 when it's released.
UPDATE: It's been released at 99.95.