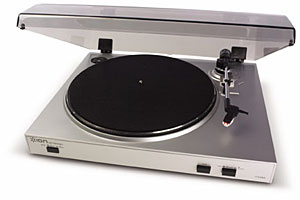 Hoping to tempt the kids to start playing the vinyl they've bought is Ion Audio who have knocked out two new versions of its popular iTT USB turntable.

The iTTUSB05 ($149.99) and the iTTUSB10 ($249.99) both serve up 33 1/3 and 45 RPM playback, line-level RCA outputs (powered by a built-in preamp), EZ Vinyl recording software, and plug & play USB connectivity.
Rocking grandads and nostalgia freaks may be interested to know that the iTTUSB10 can also digitise 78rpm records using some software sleight of hand, and is able to convert other ancient media like cassettes plugged into its 1/8-inch stereo input.
The turntables come with integrated RCA cables, a USB cable, 45 adaptor (remember them?) and all the necessary software to start getting your precious vinyl on your PC.