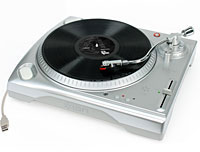 If you've got a big stack of top notch vinyl gathering dust at home, you may want to consider using this natty USB Turntable to record the platters that matter straight on to your desktop or laptop PC.
Simply slam the turntable's USB plug into any spare port on your computer, load up the easy-peasy Audacity software and you should be away in minutes.
The USB Turntable plays 33 1/3 and 45rpm records (no 78s, so tough luck granddad) and comes with adjustable pitch control (+/- 8 per cent), anti-skating control and a "high-speed vinyl recording function" (whatever that is).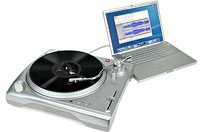 The turntable can also be hooked up to any home stereo with CD or auxiliary inputs so you can rock out to your old punk rock 45s after a night in the pub.
The deck is a belt driven jobbie, so wannabe superstar DJs can forget all about getting scratchy on the thing, and is now available from Firebox for £120 (€176.40 or US$225.00).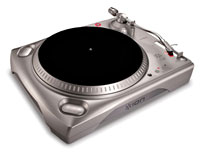 Using your existing turntable
We have to say that if you really value your tunes, you'll get infinitely better quality by using a 'proper' turntable like the Pro-ject Debut III turntable, which sells for around the same price as the USB turntable.
Although the turntable can't be plugged into an USB port – or even your computer for that matter – you can capture the glorious sound of that lovely old vinyl by using a twenty quid phono pre-amp to convert the signal into an output compatible with your sound card instead.