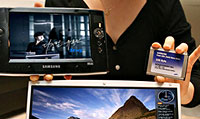 Samsung has announced the imminent release of the world's first solid state laptops, in the shape of the Q1,an Ultra Mobile PC and the Q30-SSD, a 12.1-inch screen notebook PC
Instead of the rattling old hard disk drives we've grown to love, Samsung's new models will come with a 32-gigabyte flash memory as their main storage device.
Known as a solid-state drive (SSD), Samsung's flash memory drive can read data three times faster than conventional hard disks (53MB/s) and write data 150 percent quicker (28MB/s). Scorchio!
Best of all, with no disks to spin up, there's better protection against shock, 25-50% faster boot-up/sleep recovery times, longer battery life and no noise from whirring fans.
Sounds good? Well, check out the price before reaching for your plastic.
The Q30-SSD looks set to come with a mighty sting of around $3,700 US-equiv when it hits the shelves in Korea (only) from early June onward, and the Ultra Mobile PC will come with the same trouser tightening sting.
"The SSD laptops are targeting a different consumer group from conventional laptop users," explained Samsung spokesperson Lee Seung-han. "And the price will go down gradually."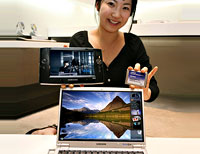 The company also said that it was only selling the SSD laptops in South Korea to reduce the risks from teething problems.
Hybrid Hard Drive (HHD)
With the high price of flash memory proving unattractive to PC manufacturers, Samsung are looking to sweeten the pill by developing a Hybrid Hard Drive (HHD), which is being debuted at a Microsoft conference in Seattle this week.
Samsung's Lee was enthusiastic about the new technlogy, claiming that early tests show the hybrid hard drive outperforming the flash memory-only drive in terms of processing speed.
"The Windows boot-up time is significantly faster in the Hybrid Disk than in the Solid-State Disk, maybe because the SSD is still in its early development state," he said.
Specs: NT-Q30-SSD/NT-Q1-SSD
Processor Intel Celero M 753 (1.2GHz)/Intel Celero M 353(900 MHz)
Memory 1 SODIMM Socket, DDR2 400 MHz, 512 MB (both)
LCD 12.1″ WXGA (1280 x 768) TFT-LCD/ 7″ WVGA (800 x 480) TFT-LCD
Graphic Intel GMA 900/Intel GMA 900
Video Memory DVMT (both)
Storage 32GB SSD (both)
External ODD Ultra-slim (9.5mmH) Super-multi Drive (Red)/ –
Communications Modem/Lan Combo, WLAN (802.11 b/g)/10/100 Ethernet, Mini card WLAN (802.11 b/g), Bluetooth v2.0
TV / DMB Embedded DMB/Embedded DMB
Keyboard 83-key Korean Keyboard/Keyboard and Organizer Package included
AudioSRS 3D Sound Support, 16-bit Stereo, SB Pro compatible, Internal Stereo Speaker (2W x 2) (both)
Power 60W AC adapter (110-240 free volt) (both)
Battery Li-ion Battery, Standard 3-Cell, Extended 6-Cell (both)
Dimension (without battery) 287.7 x 197.5 x 18.0 ~ 23.8 mm/ 227.5 x 139.5 x 24.5~26.5 mm
Weight1.14 kg (HDD onboard notebook: 1.16kg)/ 751 g (HDD onboard notebook: 777g)