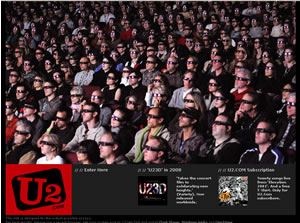 Paul McGuinness, the manager of U2, has been speaking at a conference, Music Matters conference in Asia, addressing what he thinks is wrong with the music business and who is to blame for its reduced ability to make money.
Broadly — to save you having to read the 12 pages of it — he thinks the ISPs are making loads of money, because people are getting broadband connections to download/share music.


While that may be the case in some situations, we feel that his view is a gross over generalisation. People don't get broadband connections because they want free access to music, they do it because they want or need the Internet and using dialup for Net access is a total pain.
P2P is 80% of Internet traffic – Misleading
By way of proving his case, he uses the oft quoted, "Researchers estimated at the end of last year that up to 80% of ISP traffic is accounted for by peer-to-peer networks like BitTorrent and Limewire, and we know that the large majority of that traffic is unauthorised music and movies."
This, at face value, sounds damning, but it's purely because the video files are so large, that this 80% figure sounds so frightening.
Importantly it's not 80% of the transactions, it's 80% of the volume. In terms of the number of transactions, the percentage would be very different with email and IM dominating.
What he wants from ISPs
There are broadly two things I would like to see from ISPs. One is a real commercial partnership with the music business in which they fairly share their revenues. The other is action to stop facilitating mass copyright theft themselves.
On the commercial deal side, he's not didn't like the idea that some have spoken about, a fee that the ISP charges each subscriber, giving them blanket access to music. Many have argued that this would give the music industry considerably increased incomes from where they are now, but they and Paul McGuinness are not fans of it — he describes it as "a state-imposed flat fee" — perhaps because, while expanding the current earnings, it would effectively cap the earning potential of the music business.
What he does like
What he does like is privately-negotiated revenue-sharing partnerships, such as the "Comes with Music" from Nokia – proposing that Nokia could have a possible competitor to Apple's iPod on their hands with it.
His conclusion is that one way or another, ISPs and mobile operators are the business partners of the future for the recorded music business.
New music biz models
He's got a really interesting run down of current new model of music distribution
But the future isn't just about Apple. Recent months have seen a fair share of important initiatives: QTrax, albeit still recovering from a shaky start at Midem in January; in Europe, Nokia's "Comes with Music"; in Denmark, a fascinating world's first widely-licensed ISP music service called TDC Play; Omnifone's mobile download initiative; a venture into music downloads by MySpace; We7's free-to consumer ad-supported service, iLike the exciting music platform on Facebook.