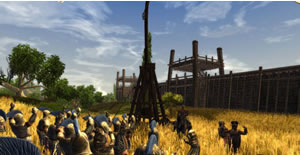 Age of Conan, a fantasy-themed massively multiplayer online role-playing game (MMORPG), by Funcom has within three weeks of its release has reached the major milestone of shipping one million units.
Age of Conan, or AoC as it's known to its passionate PC fans, has topped the charts in US, Germany, France and the UK, with over half of the sales going to the US.
Strong reviews must have helped sales, with US gaming website Gamezone claiming that "Age of Conan has raised the bar," and giving it a score of 94 out of 100, being an example.
Inevitably parallels are drawn between previous MMORPG hit World of Warcraft. Funcom Vice President of Sales and Marketing, Morten Larssen, doesn't disappoint, "Sales data shows that Age of Conan is the biggest MMO launch since World of Warcraft."
Larssen also claims that the AoC launch is, "the biggest simultaneous Europe/US MMO launch in history."
Have a lookie see at the launch video …