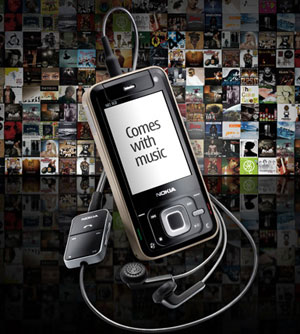 Currently enjoying a nice big synergistic hug and dreaming of a fast-filling cash trough are Nokia and Sony BMG, who have back-slapped themselves silly after striking a deal over the "Comes With Music" service.
The deal will give punters with brand spanking new compatible phones a year's worth of free access to the Sony BMG music catalogue, with pop-pickers (© Alan 'Fluff' Freeman) able to download tracks to both their mobile device and computer via the Nokia Music Store.
Once the year is up, they can keep their downloaded (DRM'd) tracks and transfer their downloaded tunes to any new compatible phone they buy.
If they want to top up their catalogue with new music, they'll have to buy further tracks from the Nokia Music Store, or upgrade to Nokia's "unlimited access" subscription service, which lets them gorge on any new releases and back catalogue tracks they missed out in their freebie year.
"This initiative represents a critical new way of gaining access to music, through which fans will be able to explore Sony BMG's vast catalogue of recordings for an entire year," trumpeted Thomas Hesse, Sony BMG exec.
"We think this business model will encourage users to sample a wide range of material, expand their musical tastes, and listen to more music than ever before. In the process, we think it will provide new opportunities to artists from every genre of music, and increase demand for music overall," he continued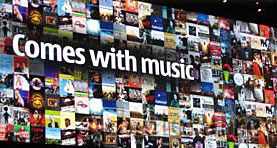 The 'Comes With Music' service is expected to blast off in the second half of 2008 on a range of Nokia devices in selected markets.
So far, Universal is the only other major record label to sign up to the service, although EMI are reported to be undergoing prolonged hoo-hah-ing sessions.