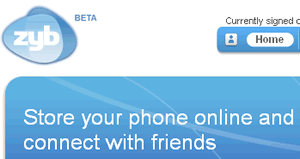 ZYB, a service that lets you backup your mobile phone contact and access them on the Web, has branched out and made a company purchase.
They've bought a Danish mobile social networking company, Imity, for an undisclosed sum.
ZYB want it so they can build what they call "a next-generation solution for mobile-enhanced social networking," which will bring in the features of Imity.
Imity's focus is using bluetooth at bringing people together in the real world – or IRL as techo call it.
Nikolaj Nyholm, a co-founder of Imity, spun words a-plenty with "ZYB and Imity share the same fundamental vision, namely that the most powerful social networks are based on the most important daily interactions – the people we interact with through our phone and those we meet face to face in the physical world. ZYB's large and fast growing global user base will enable Imity to more extend its reach in a way that's not possible on our own."
Terms of the deal have not been disclosed.