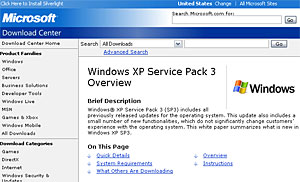 Microsoft's long serving XP operating system is set to be given its final set of tweaks with the Windows XP SP3 system update expected to be unleashed to Joe Public on April 29th.


The update has already started shipping to manufacturers and offers minor performance and stability enhancements, a cumulative security update and tools to make it easier for network administrators to manage SP3 machines alongside Windows Vista PCs.
It's been a long time since Microsoft released a Service Pack for XP, with the last one, SP2, dating all the way back to August 2004 (SP1 came out in September 2002, eleven months after the debut of XP in October, 2001).
As we reported last week, many users are resisting the upgrade to Vista and have been petitioning Microsoft to keep XP alive indefinitely.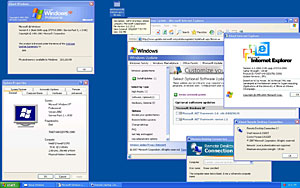 Despite this, SP3 is expected to be the last major update for Windows XP, with Microsoft no longer offering the operating system to manufacturers from 30 June. Crucially, XP will still be made available to vendors flogging machines in the exploding "ultra-low cost" PC markets (e.g. the Asus Eee).
Windows XP SP3 will be available through Microsoft's Windows Update tool or the Microsoft Download Centre website.
"Today we are happy to announce that Windows XP Service Pack 3 (SP3) has released to manufacturing (RTM). Windows XP SP3 bits are now working their way through our manufacturing channels to be available to OEM and Enterprise customers. We are also in the final stages of preparing for release to the web (i.e. you!) on April 29th, via Windows Update and the Microsoft Download Centre.
Online documentation for Windows XP SP3, such as Microsoft Knowledge Base articles and the Microsoft TechNet Windows XP TechCenter, will be updated then. For customers who use Windows XP at home, Windows XP SP3 Automatic Update distribution for users at home will begin in early summer."