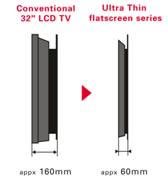 One of the clear upcoming trends for TV manufacturers is to try and persuade you to change your current flat screen (if you've taken the plunge already) to an even thinner TV.
While we were at IFA last year, we were stunned by the ultra thin TV shown by Sharp, which came in at a crazy 20mm, at its thinnest point – it was only 29mm at its thickest!
Sharp made it clear that this screen wasn't going to be in the shops any time soon, so while you're waiting for that …
Today, UK electronics retailer behemoth Comet has let us know that from next month they'll be selling a new, thin TV from Hitachi, giving it the crown of the "Thinnest Flatscreen in Europe."
It's a third the thickness of a 'conventional' flatscreen TV and you won't be breaking your back as you take it out of the car, if you decide to buy one, as it weighs in at 10.9Kg.
From the photos it does looks like a slick unit, which may give rise to the surprising conversation between man of, "Mine's thinner than yours!"
Public getting model weary?
There is a significant danger that TV manufacturers could just wear out consumers, as they constantly fire new models of TVs into the market.
While nearly all TV that are bought these days are flatscreen — Comet tell us it 95% of their sales now — there are many people who haven't upgraded the CRT TVs. Each time they get close to upgrading, another type of TV arrives, such as a thinner one, or HDTV 2 from NXP.
The other side to this is that there's huge capacity for LCD panel production in the world and when you're banging out flat panels, you've got to do your very best to find new ways of turning them into products.