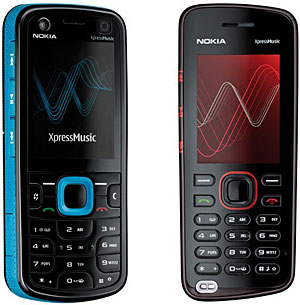 Nokia knock out two new phones. We try to get excited.
Nokia 5320
The Nokia 5320 comes in a classic candy-bar form factor and serves up the rather gimmicky Say and Play feature. This lets punters bellow a song or name of an artist into their phone, and the software will dutifully serve it up.
There's certainly no shortage of more useful features on board though, with the 3G phone offering a 'full Internet browser for Web 2.0 access,' dedicated XpressMusic keys, an audio chip for advanced sound quality, a handy 3.5mm audio jack, a 2.0 Megapixel camera with flash, HS-USB and microSD card support for up to 8GB.
Nokia say that the battery will keep you rocking all around the world (that's a dreadful Status Quo tune, young 'uns) for up to 24 hours of singalong enjoyment, with the 5320 becoming available from the third quarter of 2008 for around €220 (pre-taxes and subsidies).
Nokia 5220
The cheaper 5220 comes with fewer features than the 5320 (there's no 3G in sight), and sports a rather bizarre asymmetrical curved form factor which got a bit of love/hate reaction around the office, with 'hate' being the over riding reaction.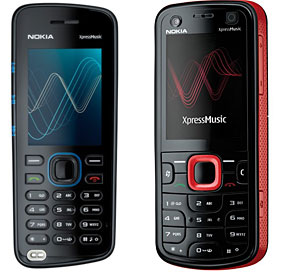 The candybar handset also comes with Nokia's dedicated XpressMusic keys, up to 24 hours music playback, a 3.5mm audio jack and a built-in lanyard for that hip 'phone around the neck' drug dealer look.
The Nokia 5220 is labelled up at €160 Euro before taxes and subsidies are applied, and is expected to start shimmying on to mobile phone store shelves in the third quarter of 2008.