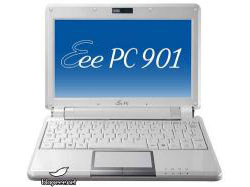 Already on a roll with the success of their Eee series of cheapo ultraportable laptops, Asustek Computers have offered a preview of their new Eee PC 901 which is based on Intel's soon-come Atom processor.
Punters were given a peek at the Eee PC 901 at the WiMax Expo, and the laptop is expected to be officially launched tomorrow – the same day that Intel's Diamondville version of its Atom processor becomes available.
The Eee 901 is a prompt upgrade for the Eee 900 and boasts a 1.6GHz Atom processor, 8.9-inch 1024×600 pixels resolution screen and 1GB of RAM backed by a memory-card slot.
The Eee will be available in Windows XP or Linux flavours, with the latter coming with a 20GB solid-state drive (SSD) and the former offering a smaller 12GB drive, thanks to the increased costs of the Windows license.
Connectivity options include Wi-Fi and Bluetooth – with a WiMax version expected to be in the works – while battery life has been ramped to a useful four to six hours (depending on the fitted battery).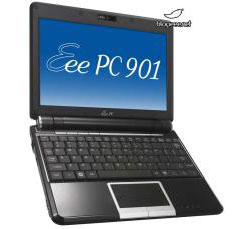 Asus are also rumoured to be announcing the Eee 1001 tomorrow at Computex, which – as its name suggests – packs a larger 10″ screen.
The pint sized lappies will be released in black and white versions. Pricing and availability still to be announced, but Asus have announced that it's going to slash the price of the earlier 701 and 900 models.