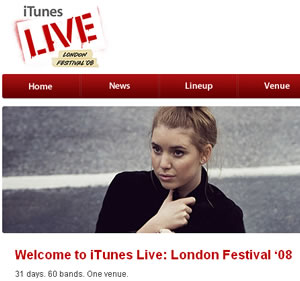 Apple are 'keeping it real' again this year, with the second iTunes Music Festival. It's an opportunity to actually see the people who normally just trickle out of your iPod headphones for speakers.
This year's event will be at Koko in Camden (nee the Camden Palace), between 1 – 31 July. It's all opening with N*E*R*D on 1 July. There's 60 bands playing in total with other artists performing include The Ting Tings, CSS and Chaka Khan.
Getting tickets
To get tickets, you're not going to have to dig into your pockets, as they'll be dished out to competition winners .
You will need to have a valid iTunes Store Account to enter though. A great way to boost their membership figures.
There are only 100 prizes (of a pair of tickets) available through the competitions, so we assume the other 800 spaces will be filled with mates of Apple employees, and other people who Apple want to show a good time to. Thanks for Apple getting in touch to explain that nearly all of the tickets will be given away in competitions through various fan sites and other "media partners," of which, you never know, we could be one!
If you miss the gigs, Apple will be happy to give you the same sound experience. As happened last year, all of the live performances will be available to be bought on iTunes. Last year's recordings are selling for £2.99 per artist.
More details on the iTunes Live site