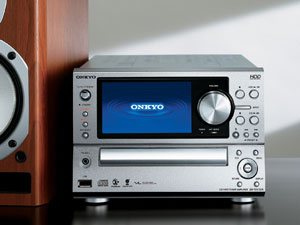 We're liking the sleek lines of the new X-NX10A audio system from Onkyo, which packs a built-in HDD.
The attractive looking mini hi-fi bears a strong resemblance to the well received Onkyo CS515DAB micro system, with the addition of the hefty LCD colour screen now parked on the front of the unit.


Lurking inside the silvery beast is an integrated HDD, offering 80GB of storage, with a front mounted USB port letting you slam in a USB stick and copy your banging MP3 choons direct to the hard disk.
There's also an ethernet port for hooking the thing up to your network (but where's the wi-fi?) and a CD slot for playing back those quaint old CDs.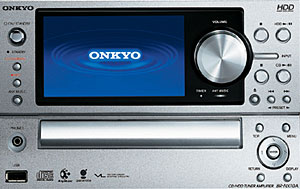 The system can get down and dirty with the MP3/PCM/ATRAC audio formats, and if you've got a web connection, it'll display information about the currently playing song.
The system comes bundled with two modest speakers in a rounded wood finish, containing a 13cm medium and 3cm tweeter.
The whole system is rated at 2x 26W (so perhaps not one for hardcore grimecore fans) and has an expected to retail cost of around 450€.