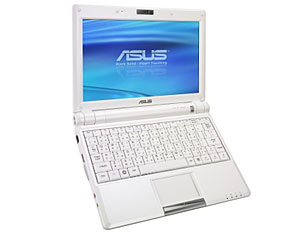 Currently sending ripples of excitement around the office is news of the impending UK release of the Asus Eee PC 900 ultraportable laptop.
Priced at a comparatively expensive £329, the most noticeable difference is the increased screen size – up from 7 inches to 8.9 inches, with a widescreen 1,024×600 pixels resolution. With so many websites being authored for 1024 pixel-wide screens, this will bring welcome relief to Eee users fed up with scrolling from left to right (See our review of the original Asus Eee).
Inside, the RAM has been doubled from 512MB to 1GB, and the built-in webcam has also enjoyed an upgrade from 0.3 megapixels to 1.3 megapixels.
There's also a new multitouch touchpad – similar to the one seen on the MacBook Air – which makes it easy to flick through pages and zoom in and out of images using two fingers.
Battery life remains around a so-so two and a half hours with the four-cell battery, but Asus has announced that it will offer a larger capacity optional six-cell battery.
Users expecting to find Intel's new low-powered Atom chipset inside will be disappointed, with the Eee 900 retaining the same 900MHz Celeron chipset as its predecessor. However, Asus has said that the new chip will be introduced at a later date (there's also talk of a model with built in GPS looming).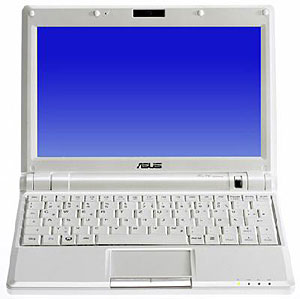 The new model is another delightfully bijou affair, but the new model sees the weight nudging up 100g to 990g.
Linux and Windows XP versions of the Eee 900 will be made available at the same price of £329, with the Linux version packing 20GB of solid-state storage with the cost of the Windows licence reducing that model's capacity down to 12GB.
Asus are quoting UK availability from May 1st but a quick search of the Web suggests that may be a tad optimistic. We hope to bring you a review just as soon as we can get our mucky paws on one.
Specs:
Display: 8.9″ 1024 x 600
Colour: Pearl White, Black
CPU: Intel Mobile CPU
Chipset: Intel Mobile Chipset
Memory: DDR II 1GB
Graphics: Intel UMA
Storage:
Linux sku:20GB (4GB on board + 16GB flash module)
XP sku:12GB (4GB on board + 8GB flash module)
Web Cam: 1.3 M
Dimension: 8.86″(W) x 6