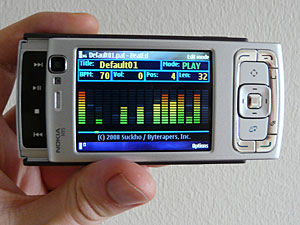 Bus journeys could be set to get even more annoying with the launch of the BeatEd, a simple drum sequencer/ machine for Symbian S60 smartphones.
The application offers an easy to use beat editor and the ability to change tempo and volume while playing, so you could really wind up granny on the Number 43 bus.
There's a 16 bit, 16 channel audio mixer onboard with tempo settings adjustable from 1-999 BPM. The software supports multiple sample kits with users able to define their own own kits and load them from the UI using the 'Load sample kit menu' command.
The interface looks pretty slick too, with real-time VU meters and 16 different drum tracks, plus the ability to be viewed in horizontal or vertical orientation.
Great thunderous beats created by wannabe Keith Moons can be output via the headphone out socket and plugged straight into an amp for live work.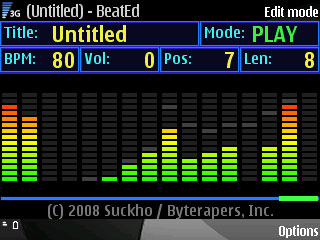 The author offers the software for free, but a note on his blog invites users to "donate something to cover all the time, sweat, and beer wasted." I think we like the sound of this guy.
Supported devices:
– All S60 3rd edition devices (Forum Nokia list)
Tested devices:
– Nokia 6120 Classic, N82, N91, N93i, N95, E51, E60, E65, E70, E90 Communicator