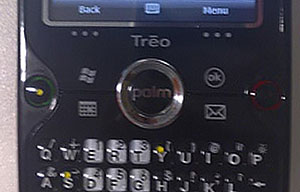 More details of the new Palm Treo 850w Windows Mobile smartphone have appeared on the Internet, and we have to say that finally it's a bit of a looker to our eyes.
The new phone incorporates design elements of the hugely popular, low-price Palm OS Centro smartphone and the Windows Treo 500v phone, which we reviewed favourably last year.
According to leaked photos, the 850 features the traditional Treo/Centro thumb board, with the keys running in straight rows rather than the gently curved "smile" configuration of earlier Treos. It certainly looks a lot more enticing than the Treo 'Drucker' 850 prototype models seem back in January.
The new Treo 850 is thinner than the Centro at 14 but a fair bit wider and longer, at 60 mm and 113 mm, respectfully.
The phone features circular dedicated call/end buttons, and a round navigation pad, plus two softkey buttons for navigating Windows Mobile.
Disappointingly, the touchscreen only manages a 320-by-320-pixel resolution, although it has lost the annoying deep recessed edges that make it a bit tricky to access the corners of the Centro's screen.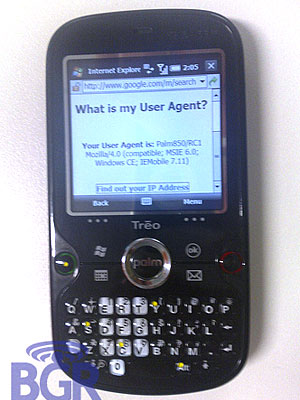 Running on Windows Mobile Pro 6.1, the leaked specs look pretty good, with the phone packing GSM, EDGE, and UMTS with HSDPA 3.6 connectivity and an Assisted-GPS receiver.
At long, long, long last Palm have finally fitted a Treo with built in Wi-Fi (802.11 b/g). There's also Bluetooth 2.0 EDR + A2DP, with the camera being upgraded to an par-for-the-course 2MP jobbie.
Onboard storage adds up to a reasonable 256 MB NAND-Flash (with greater than 175 MB for user) and 32 MB SDRAM, backed by a microSD expansion slot.
The battery looks reasonably substantial at 1500 mAh battery with Palm sensibly dumping their proprietary connector for a Micro-USB connector for both power and sync.
Internet rumours put the Treo 850 on course for a July 2008 release date, with the price hovering around the €270 Euro mark. We're still hanging on for the new Palm operating system which will surely be the making or the breaking of this fast-fading smartphone pioneer.
Photo: The Boy Genius Reports