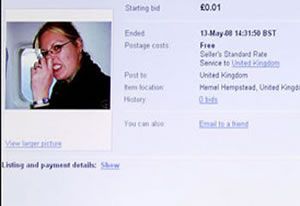 It looks like there could be something seriously wrong happening in the world of the Internet. Police are taking action against individuals for seemingly the most ridiculous reasons.
You may have been aware of the young lad who was taken to court for posting his feelings about a local policeman.
More recently there's been another case – this one appearing even more spurious.
Although the details provided in this 'news' report in The Sun are pretty sparse, the 'offence' looks pretty inoffensive – but the person has ended up with an official police caution.
Selling wife on eBay
It's reported that Paul Osborn started an auction on eBay where he put his wife up for sale, describing her as a "cheating, lying, adulterous slag of a wife." Not very friendly of course, but hardly life threatening, but he was convinced that she was having an affair.
It was also reported that he put her mobile phone number on the posting as well.
Another article quotes a previous article in The Sun
Paul said: "In a fit of rage I put the advert on eBay. I later took it off because I realised it wasn't the right thing to do. I was just so angry."

But Sharon had already made a complaint to police who today confirmed they were investigating, saying: "Statements have been taken from two people. "
It's alarming
Let's, for a minute, ignore if what was written was offensive – what's alarming here is that police actions are being taking against someone who has already removed the information from the Internet.
From these two recent cases, it appears that the police are using legal actions, or the threat of legal actions, to deter people from posting information on the Internet.
This isn't threats to kill people, or calls for mass insurrection, just people expressing their feelings. Something that up until a few years ago was quite OK in a free country.
Is this early days of the once-free Internet, coming under control of the authorities?
Image: a screen grab from The Sun newspaper of a wife for sale on eBay