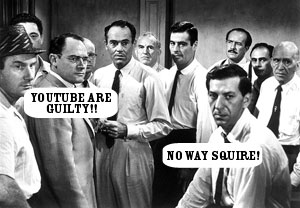 US lawyers are busying rubbing their hands together with glee as Viacom's one billion dollar lawsuit against YouTube is submitted to a Manhattan court.
Viacom are suing the owners of the popular video sharing service because of their failure to keep copyrighted material off the site, claiming that they have spotted no less that 150,000 unauthorised clips on YouTube. And that's a lorra clips.

In a dramatic defence, Google's lawyers claim that the action "threatens the way hundreds of millions of people legitimately exchange information" over the web, while insisting that they had stayed faithful to the requirements of the 1998 Digital Millennium Copyright Act, responding to claims of infringement correctly.
In papers submitted to the court, Google's gang of lawyers were emphatic that they (and YouTube) had gone "far beyond its legal obligations in assisting content owners to protect their works".
This caused much pooh-poohing and guffawing from Viacom's legal eagles who were emphatic that Google or YouTube had done "little or nothing" to stop the ongoing copyright infringement.
Viacom claim that YouTube is packed to the rafters with unauthorised copies of popular TV programmes and films, with the 150,000 copyright-busting clips including content from shows such as South Park, SpongeBob SquarePants and MTV Unplugged.
In a reworded lawsuit filed last month, Viacom also loudly pointed out that the documentary, "An Inconvenient Truth" had been viewed on YouTube "an astounding 1.5 billion times".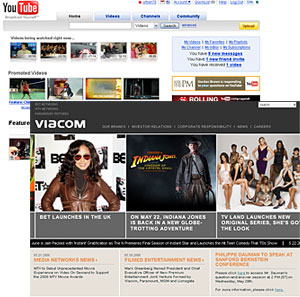 "The availability on the YouTube site of a vast library of the copyrighted works of plaintiffs and others is the cornerstone of defendants' business plan," Viacom said.
Donning a superhero costume and showing a heroic determination to fight on behalf of All Copyright Holders Everywhere, Viacom big boss Sumner Redstone told Dow Jones: "When we filed this lawsuit, we not only served our own interests, we served the interests of everyone who owns copyrights they want protected."
"We cannot tolerate any form of piracy by anyone, including YouTube… they cannot get away with stealing our products," he added, while practicing a few power knockout moves.
David Eun, Google's vice president of content partnerships was up for the fight, ripping open his shirt and bellowing to the wind, "We're going all the way to the Supreme Court. We've very clear about it."