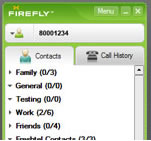 As predicted last week on Digital-Lifestyles, Tesco has announced a Mobile VoIP deal with Freshtel, initially a trial.
More details were disclosed at the press conference yesterday.
The most significant feature of the service is that calls will be able to be made from the existing mobile number. This is the first time we've heard of a mobile VoIP service offering this. There's normally a separate number issued when you sign up for a mobile VoIP account.
As with other mobile VoIP services, like rival provider Truphone, to get the service working on your mobile phone, an application has to be downloaded to the handset. Freshtel are claiming that this will take around a minute.
As is common with mobile VoIP, for lowest cost calls, a WiFi connection needs to be available, where voice and text communications are routed to. 'Normal' cellular networks are only used if WiFi can't be found.
The currently supported handsets are the Nokia WiFi range – N95, N81, E65 and E51.
Tesco currently owns 12% of Freshtel's Australian holding company and both are monitoring the mobile VoIP trial's success with a view to launch.