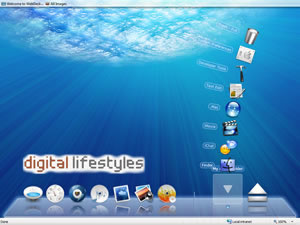 A Microsoft developer, Intersoft in Indonesia, has developed a Mac Aqua clone … in Microsoft's Sliverlight.
The product, WebAqua, doesn't hide its similarity to Apple's Aqua interface, it even celebrates it with phrases like, "perfect for helping you bringing Mac-OS look and feel to your next-generation Web application."
We've got to hand it to them, it does look mighty impressive – and close to identical to Apple's Aqua interface that ships with Leopard.
Apple's Dock Stacks copied
WebFishEye replicates Stacks — the icons that pop out of the Dock application bar of Aqua — in exact detail.
Again, it's not something that they're shy about, indeed they describe it thus, "WebFishEye™ is a modern sleek navigation control modelled after the Mac's Leopard™ operating system."
CoverFlow emulated too
Those who are familiar with Apple's CoverFlow, first used in iTunes, now part of the Leopard user interface, will be somewhat surprised to see them so clearly copied.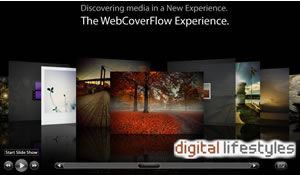 To illustrate the quality of the work they've carried out, it's also worth pointing out that they've got video to play in situ while it's in, what they call WebCoverFlow.
Take a look for yourself
Those who have the urge, can try out online demos of WebAqua and WebCoverFlow. No surprise that the SilverLight plug-in is required.
Be aware that Sliverlight, being what it is, caused our browsers to crash quite a few times, while we were looking around the tool demos.
The single developers license starts at $399, rising to $3,990 to a site-wide license.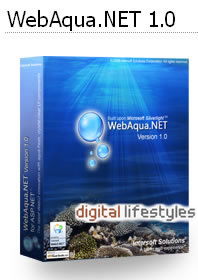 Is it for real?
Beyond the initial, "wow someone's built a Mac Aqua interface out or Sliverlight, that's a bit cheeky," our next thought was, "this must be a joke."
Digital-Lifestyles called the developer, Intersoft, based in Jakarta, Indonesia. The language barrier did cause some problems, but from the best that we could tell, this is a real product.
This is somewhat backed up by them having a booth at Tech Ed (exhibitors list under Intersoft Solutions Corp. at #1348).
Some anti-Microsoft or Apple-positive people may well think that Microsoft commissioned this as a jib at Apple, but we think that's unlikely. It's just a bunch of geeks who love MS products and wanted to code their butts off to create a tool (very) like Apple's Leopard.
We suspect that Apple lawyers will be picking up the phone on this one pretty sharpish and it won't matter a jot if Intersoft have got a trademark for the names.
Thanks to Ian Winter of HomePage for the story tip.