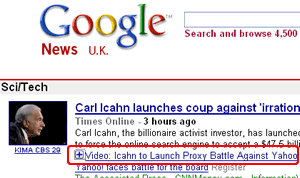 Google extends video playback to Google News.
We've known for a while that Google Search has been displaying video results with the ability to expand and play within the search results – in fact it was about a year ago.
Yesterday, we noticed that this facility has been brought into Google News.
It makes logical sense that people should be able to view the videos rather than having to jump out to a second page.
To view the video, simply click the + (plus) sign to the left of the headline and the video appears below. Clicking the – (minus) removes the playback window.
Just YouTube?
It appears, from the limited tests that we'd done, that it's only YouTube videos that are being shown.
While it's understandable that YouTube would be the easiest to incorporate (they're part of the same company after all), we're a little uneasy with the selections of video sources isn't wider – not exactaly projecting an open Web is it?