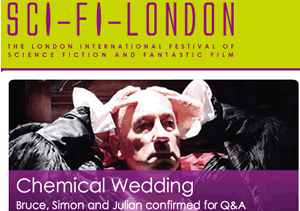 The London Sci-Fi film festival is on this weekend and sounds like it's well worth a visit after we spoke to Louis Savy, the Festival Director, last week. They're tying up with Archos too to show some of the short films.
[audio:https://digital-lifestyles.info/media/audio/Louis-Savy-Sci-Fi-London-2008-Interview.mp3]
Intro ident by Ergo Phizmiz
It's been running since the 30 April and really heats up this weekend – with tons going on over both Saturday and Sunday.
For Sci-Fi film fans there's loads of new films showing there including the world premier of the Chemical Wedding, which was inspired by Aleister Crowley's life, with Simon Calow playing the main role.
48 Hour Sci-Fi Film
A new fun challenge this year was to make a Sci-Fi film in 48 hours. From this an amazing 70 new 5-minutes films were made.
A selection of these films will be available to be seen on Archos PMP players while the festival is on – a neat idea, both for the promotion of Archos and their handheld players, but for the films as well.
The three winners of the 48 Hour Sci-Fi film making challenge will also be announced on Sunday. The final winner will be opening for Chemical Wedding.
The final 10 films form the 48 hour challenge are:
– Superkey
– Mr What When Where
– Water's Edge
– Superstring
– G.L.I.B
– Factory Farmed
– Until Further Notice
– Field of Light
– Dog's Tooth
– Noise Reduction