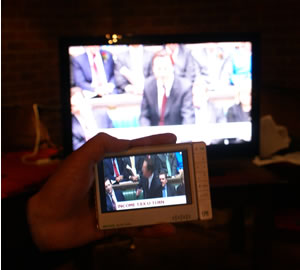 While we were at the Archos launch in London last week we had a run through of the Archos Portation.
It's a free plugin for owners of the Archos TV+ which lets you stream live TV from your TV+ to a laptop, Symbian phone or handheld Archo 605 or 705 with DVR station if they're equipped with the £30 plugin.
Think of it as a free Slingbox with your Archos TV+.
We ran through the process of using a 605 with Paul from Archos (as you can listen to below).
It appears pretty simple. Once the TV+ is registered through the Archos site, the free plug-in downloaded, installed on the TV+ and a username and password are chosen, it's ready to go.
A similar process has to be carried out with the handheld Archos unit – we used the 605. The £30 plug-in has to be paid for, then downloaded to the 605 and when completed, a new Protation icon appears on the 605. Once clicked and your login details for your chosen TV+ confirmed, you're ready to rock.
Paul told us that if you're lucky enough to have two TV+'s, say in different countries, you'd be able to choose which TV+ you want to log in to.
It appears that providing a gratis plugin for the TV+ is a rather nifty way of getting purchasers of TV+ to register with Archos.
We were able to see the Portation working later once the WiFi had been sorted out, as you can see from our less than brilliant photo at the top of this story.
Have a listen …
[audio:https://digital-lifestyles.info/media/audio/Archos-Portation-Demo.mp3]
Intro ident by Ergo Phizmiz