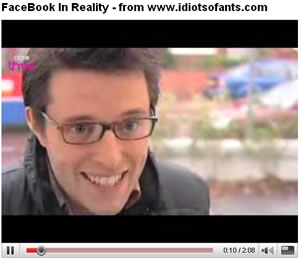 We've all seen the rise of social networks and their replacement by others, as the fashion changes.
Many devoted their lives to MySpace when it arose, collecting as many MySpace 'friends' as possible to show others of their 'friends' just how 'popular' they were.
Their excitement was understandable as it was the first time that many of them had used the Internet for a social use.
As you'll know, the latest dominant network du jour, Facebook, has been riding high for a while and has its own language with words like Poke.
Some young clever clogs, funny-types — Idiots of Ants — have come up with a comedy sketch about Facebook that captures a lot of the funny things about your 'friends' popping up from the past and befriending you.
Users of Facebook will be raising a smile or two when watching.