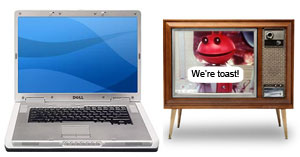 The Internet is on track to boot King TV off its throne as the biggest advertising medium in the UK by the end of next year, according to a report published yesterday.
The report by the Internet Advertising Bureau (IAB), PricewaterhouseCoopers and the World Advertising Research Centre, claims that Britain has the most developed online-advertising market in the world, with the UK market notching up a mighty £2.8bn in 2007.


Commenting on the hefty 38 percent growth last year in the online-ad market, the report points to the rising number of people online, the proliferation of cheapo laptops and the growing popularity of 'catch-up TV' on the Internet.
"With broadband speeds on the up and consumers spending more time on more sites, the outlook for online advertising is rosy. In fact, we expect it to overtake TV in 2009, when it will become the UK's biggest medium," insisted IAB chief executive Guy Phillipson.
The research noted that the Internet was the numero uno driver of overall advertising growth last year, with the entire UK sector whipping up a pocket bulging 4.3 percent growth, up to £18.4bn.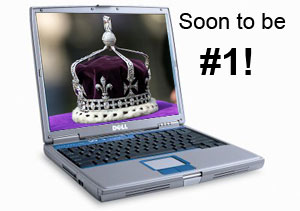 Breaking the figures down, the report puts online-ad spend with a market share of 15.3 percent (up from 11.4 percent in 2006) but still behind display press advertising at 19.9 percent and the soon to be dethroned TV at 21.8 percent.
The market for paid-for search marketing was described as "maturing but not slowing," while display online advertising – like banners and video – grew 31 percent.