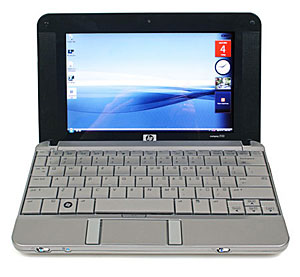 Chasing down the platform red-faced and jumping on the Eee bandwagon is HP's new 2133 Mini-Note PC.
Aimed at the same student/family demographic and hoping to emulate the rip roarin' tearaway success of Asus's supercheap Eee laptops, the Mini-Note is available in a variety of configurations ranging from $499 upwards (that's roughly 250 of our British pound notes).


The specs show that HP means business, with the pint sized unit sporting a 1280×768 WXGA 8.9-inch screen and a full QWERTY keyboard, shrunk down by 8 percent and covered in HP's DuraKeys finish which is designed to stop printed letters and characters being rubbed off over time.
The cheapest Mini-Note packs a 1.0 Ghz Via C7-M processor with 4GB of flash and 512MB of RAM for $499, while the top of the range number will set you back $749 for a 1.6GHz processor, 120GB drive and Vista Business installed.
HP say that the Mini-Note has enough oomph to view video, grab photo stills and indulge in a bit of web conferencing or video-enhanced instant messaging – assuming that folks have shelled out for optional integrated VGA webcam, natch.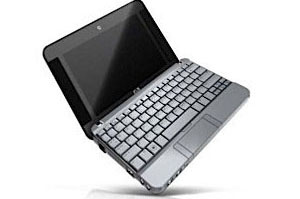 Wi-Fi is also present and correct, although Bluetooth is an optional extra.
The whole caboodle weighs in at just over two and one-half pound – "smaller and lighter than many math or science books," say HP.
PCMag have posted up one of the first reviews on the web, and they're looking at it all dewy eyed and full of love:
"Although the HP 2133 Mini-Note PC is not quite the ASUS Eee PC killer, it's still a force to be reckoned with in the ultra-mobile space. It blows past the HTC Shift, the Fujitsu LifeBook U810, and the Samsung Q1 Ultra, with a superior design that's both functional and alluring."
Full review: PC Mag