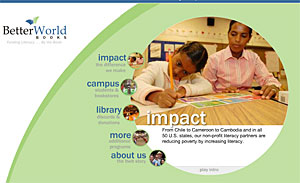 The online retailer, Better World Books – company that resells used books and donates some of the proceeds to fund global literacy projects – has stepped up operations and has brought in its first outside investment as part of a program of expansion.
Better World Books currently collects and resells used books from university bookstores and libraries, and donates an average of 10 percent of book's price to various nonprofit literacy groups.


These include organisations such as Books for Africa, Room to Read, World Fund, and National Centre for Family Literacy, with some of the books being shipped directly to Africa, while some are flogged from their own Betterworldbooks.com website, as well as mainstream sites like Amazon.com and Half.com.
Their website currently claims to have saved 6,454 tons of books from ending up in landfills. And that's a lorra books, folks.
As an environmentally conscious concern, the company also offers carbon-neutral shipping, adding between 2-5 cents onto the price of each book, with he money going towards credits to offset the carbon used in the distribution.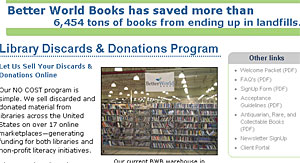 The "self-sustaining, for-profit social venture" has been set up to "capitalise on the value of the book to fund literacy initiatives locally, nationally and around the world," with their website mission statement explaining that, "We believe that literacy gives people water to drink, imparts knowledge to eliminate disease, and develops self-esteem that enables people to make their mark on the world."
The company now intent to branch out into publishing and book rentals, raising $4.5 million in its first round of financing led by the institutional investor Good Capital, which specialises in social entrepreneurship.
"Like a lot of start-ups, if we want to continue to accelerate our growth and scale, we want to invest in new business units," said David Murphy, CEO of Better World Books.
Murphy added that the moolah would be used to improve their current Web site and increase their book stocks, with international expansion, a young book-publishing division and a web-based book-rental service penned in for the future. "It would be like taking a Netflix approach to the text book market," he added.