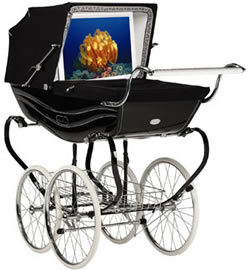 Parents are far more likely to be regularly accessing the Internet than childless adults, according to new research.
The study, by the European Interactive Advertising Association (EIAA), also claimed that the online activities of parents is influenced by the age of their offspring.
The EIAA Digital Families report confirmed the ruddy obvious – that people with kids generally stay at home more than adults without genetic luggage – and that for parents the Internet is a nifty resource for information and entertainment when you're stuck in the house.


The study looked at how parents use the Internet, both on their Jack Jones and with their kids sat next to them (and probably busy dribbling food into the keyboard).
A brief peek through EIAA's figures reveals that almost three-quarters of adults living with kids are logging on to the Internet every week, compared with just over half (52%) of childless adults. According to the EIAA, these "Digital parents" (wha'?!) were found to spend an average of 11.6 hours a week online, up a hefty 36% since 2004.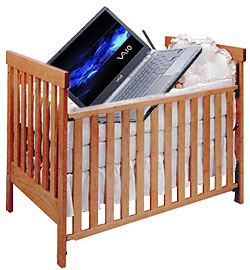 Parents with new babies and infants were found to increasingly checking out websites dealing with health issues – which is usually a good way of convincing yourself than the most minor of ailments is in fact some ultra-rare Congo disease bringing death in abundance.
Back to the study, the EIAA claims that adults with young children aged between five and nine spend a lot of time on gaming websites, looking for entertainment for their kids, while parents of teenagers were found to be more focussed on price comparison websites, no doubt in an attempt to save a few pennies from their kids' never ending list of please, please, must haves.