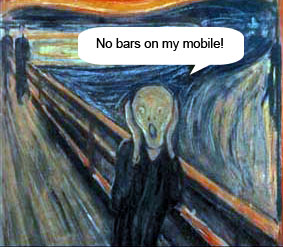 If this week's research is true, Brits are in a bit of dilemma.
A new study claiming that UK citizens live in mortal fear of losing their mobile signal has been announced just 24 hours after a leading boffin declared that mobile phones are as big a risk to your health as smoking.


The YouGov survey for The Post Office discovered that more than half (55 per cent) of the 2,000 adults surveyed could never switch off their phones (mobile 'radio silence' as its known in the trade) as they don't want to miss calls from friends or family.
The study claimed that the fear of missing work calls preys on the minds of many mobile users (haven't they heard of voicemail?), with one in ten people insisting that they need to be contactable at all times because of their job.
Nine per cent of those surveyed said that having their phone switched off gave them the heebeegeebees – a phobia-like state that has been given the daft name of 'nomo-phobia'.
Apparently, mobile-phone-induced high anxiety could affect more than half (53 per cent) of mobile phone users, with
58 per cent of blokes feeling anxious when they lose their phone, can't get a signal or run out of battery compared to 48 per cent of women.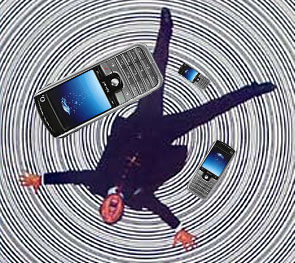 The Post Office's head of telephony, Stewart Fox-Mills, rubbed his chin thoughtfully, rotated his thumbs clockwise and counter clockwise a few times before cofidently declaring the fear of 'phonelessness' a symptom of our 24/7 culture.
"We're all familiar with the stressful situations of everyday life such as moving house, break-ups and organising a family Christmas — but it seems being out of mobile contact may be the 21st century's contribution to our already manic lives," he proclaimed, knowingly.
Mobiles + Work/Life Balance = Fail
Despite our love affair with mobiles, a recent survey by American Express Insurance claimed that most Brits reckoned that portable technology cast a negative shadow on their on work/life balance rather than helping them manage their time better.
As if! Being able to access Cardiff City's scores while on the move is one of the greatest pleasures life can bring. Only if they're winning, if course.