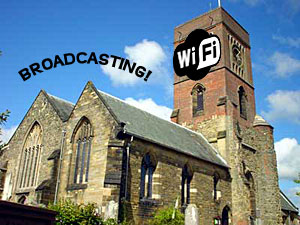 We thought it was an April Fools' joke when we first saw it, but it seems that pay-per-view funerals really are about to go live in the UK.
The service lets mourners unable to attend attend services log in from their PCs, watch the 'action' and pay their last respects via the Internet – for a price, natch.


Although it's been criticised as being somewhat on the macabre side, Kettering based Wesley Music – the company behind the webcasts – say they are mustard keen to roll out the service to crematoria across the country, with punters being charged a one-off payment of around 75 quid to access the video stream.
Subscribers wanting a last peek of loved ones are given a password to view the live online broadcast, with a small camera mounted in the chapel capturing the scene.
"Families are dispersed across the world these days and sometimes it's the case that someone cannot get home in time for a funeral," said Alan Jeffrey, director of Wesley Music.
"For those who need it, this is a very important service. It means that rather than being excluded, they can at least witness and be a part of a funeral as it happens. In a time of stress this is something that can ease the pain," he added.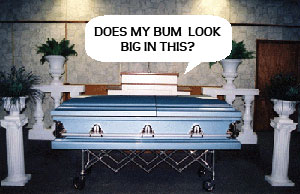 The service has already been used not once, not twice, but thrice by funeral directors Henry Powell and Son in Southampton, with David Powell saying that despite the web action going on, the services remained private and intimate affairs.
"It's a personal thing. It doesn't go out for all and sundry to gawk at," he told Reuters. "There is a password for the family to send to people who want to watch online."
He added that mourners as far away as Australia and Canada had already used the system and were "absolutely delighted" to be able to clock the funeral-based action from afar.
As well as offering live webcasts, Wesley Music are also able to sell you a DVD recording of the funeral for fifty quid and sound recordings for £20. We're not sure if they'll also be producing humourous 'outake' videos too.