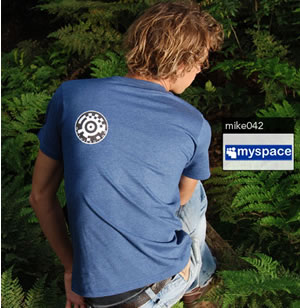 In a world where we're all becoming more spied upon by many organisations including, but not limited to, governments and supermarkets – why not volunteer more information to your fellow humans instead.
Dutch techno-fashion label Wickd, have a line of clothing, primarily T-shirts, each of which have a unique circular code graphic — they using ShotCodes — on them.
How does it work?
When you're out and about wearing your Wickd clobber, people are able to photo your circular code and will, in turn, be directed to whichever URL the wearer has set up – their blog, a specific posting, Bebo, MySpace, YouTube, etc.
All the info-keen need to do this — and this could be the slight hiccup — is to download the Wickd application to their cameraphone to be able to shoot the code graphic.
The clothing starts at around 30 Euro with a variation in the design, with some of the clothes having the code on the back and others the front. Check the site for more details.
Thanks to the ever-interesting Trendwatching for bring this to our attention.