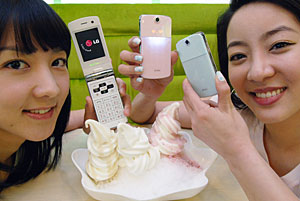 We can always rely on LG to knock out "what's wrong with being sexy" images to promote their latest phones, and they certainly seem to have pushed out the boat with this one.


To show off the attributes of their new, bizarrely monikered LG Ice Cream Phone (aka the LG-LH5000), two beauties were dutifully wheeled in and told to clasp the phones above a plate of towering ice cream and get grinning.
In a series of truly daft promotional pictures, the two ladies can be seen clutching handfuls of phone or scoffing ice cream in a manner designed to send Korean punters reaching for their wallets.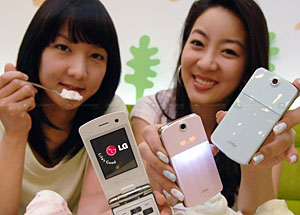 The phones are available in three colours: white/vanilla, sweet pink/strawberry and sweet blue/pistachio (but no chocolate sauce or 99 options) with the clamshell phone offering 3G phone connectivity and a 2.2″ screen.
There's also a 2MP digicam onboard, a multimedia player and one of those e-dictionaries that seem so popular in the Asian market. So far, this one looks to be for the Korean market only.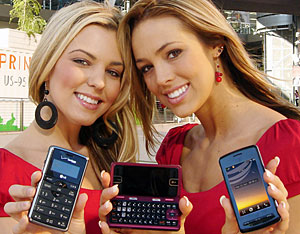 More hotties! More phones!
Elsewhere, the model agency hotlines were kept busy, with a double pack of babes being called upon to thrust a trio of new LG phones towards the lens at the CITA 2008 show in Las Vegas.
Seen in in the picture is the LG-CU920 (LG Vu) – a touchscreen number featuring a 2MP camera, Bluetooth, and MediaFlo; a LG-VX9100 with slide open QWERTY keyboard, and the LG Glimmer (aka the LG-AX830), a slider touchscreen device. Note: hot totty not included.