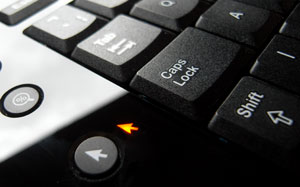 Yesterday we looked at the layout of the keyboard and battled with the installation.
Behold! Let the light show begin!
Once we started using the keyboard, we quickly forgave its installation quirks, and marvelled at the space age glowing lightshow on our desktop.

Pressing the function (Fn) button gets the Blackpool style illuminations underway, with a hidden row of icons above the row of F keys magically appearing out of the blackness before fading away seconds later.
Used with the F keys, the Fn button adds 14 different functions, all of them customisable (via the included SetPoint software) apart from the four multimedia controls, covering F5 to F8.
The circular TouchDisc also gets in on the futuristic act, glowing orange around its circumference when touched, with the light then gently fading away, like a Romulan cloaking device being activated in deep space.
We liked the volume control best of all, with sound levels adjusted by running your finger along a sleek black vertical strip, with two orange lights following your finger up and down. Star Trek fans will note the similarity with Geordi LaForge's visor and will probably get as much fun out of playing with the thing as us.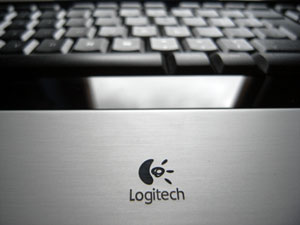 Using the keyboard
Of course, not even the greatest light show on earth will save a keyboard from being rubbish if it feels awful to use, but the diNovo didn't disappoint our digits and turned out to be a real gem to use.
The keys have just a slight click as they are depressed (so a late night essay writing session deadline won't sound like Keith Moon's moved in next door) and there's none of that horrible sponginess that afflicts some keyboards.
The Logitech's low profile makes for a very comfortable typing position and the 'feel' of the keyboard is just right – certainly the best we've ever used.
Conclusion
It's pretty hard to justify £100 for a keyboard – after all, a £10 wired job can do just about everything this can – so it seems pointless basing our conclusion on a value for money basis, even if the solid charging base and bundled Bluetooth adapter go some way to justifying the high price.
What you get with the diNovo is a beautiful slab of state-of-the-art, futuristic Tron bling which will enhance your desktop, make typing more enjoyable and quite probably give you the urge to bark out "Make it so!" at regular intervals.
The slim, compact, low profile keyboard is a joy to type on, the multimedia transport keys and function controls work well and there's even a usable mouse substitute thrown in.
It's the best keyboard we've ever used. Especially in the dark.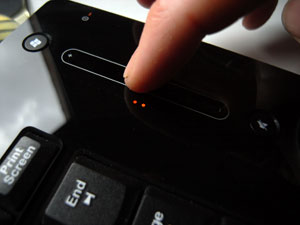 Our verdict
Looks: 90%
Ease of use: 84%
Bling factor: 90%
Appeal to Star Trek fans: 95%
Build: 88%
Value for money: 70%
Overall: 85%
System Requirements
Windows XP (SP2) or Windows Vista™ (all editions)
Available USB port
CD-ROM Drive
Hardware
Keyframe
Full-sized standard 18 X 18 mm keys, 3.2 mm key travel, 60g activation force
10M keystroke supported per key
Scissor switch technology
Plexiglas panel with brushed aluminum palm rest
Technical Specifications
Enhanced Control
38 mm circular Touchpad with horizontal and vertical scrolling
Acceleration settings goes from None to 10 times the scrolling speed
TouchDisk can be disabled with FN + Left Click on the keyboard
17 one-touch access controls with instant backlit feedback
57 mm touch sensitive volume slider with instant backlit feedback
Connectivity
Bluetooth Wireless Technology, version 2.0
Power and Battery
Built-in rechargeable 950 mAH lithium ion battery
Fast-charge time: About 5 min for approx. one day usage
Full-charge time: About 2 hours for up to 2 months usage
Dimensions and Weight
11 mm (h) X 410 mm (W) X 210 mm (d)
940 grams