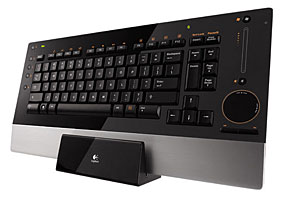 We're not quite sure it lives up to Logitech's "World's most advanced keyboard" claim, but if you're looking to cut a stylish dash at your desktop, then you won't find many keyboards as likely to impress as the Logitech diNovo Edge.


Looking like a slab of shiny machinery that's been teleported off a sci-fi set, the diNovo is a beautifully designed, Bluetooth-powered slice of sleek, superslick black and silver.
Created from a single-cut piece of seam-free Plexiglas nestling in an aluminum frame, the diNovo simply looks stunning, and the high design philosophy filters through to the neat charging/storage dock, which clears up desktop clutter by holding the keyboard vertically.
Logitech claim that users can expect two months battery life on a single charge, with just a five minute boost giving a full days use out of the keyboard.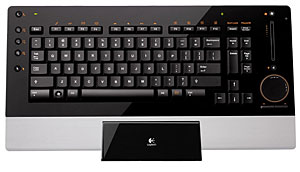 With its bright and reflective piano-black finish, the keyboard is something of a fingerprint and smudge magnet, but Logitech have thoughtful included a micro fibre polishing cloth to keep your grubby mitts from spoiling the dazzling finish. Expect to use it often.
Keyboard layout
Measuring just 16 inches long by half an inch wide, there's been some compromises to get the keyboard this small, the most obvious being the disappearance of the number pad.
While this may be nothing short of disastrous for accountants, number crunchers and mathematicians, we think it's a small sacrifice for the swish looks.
There's been some squishing on the keyboard layout too, with the F keys and some function keys being a little smaller than usual. We didn't experience any typing problems although it may not be the best keyboard for fat-fingered key slammers.
To the far left of the keyboard are five buttons for sleep mode, zoom in/out, 100 percent zoom button and left-click.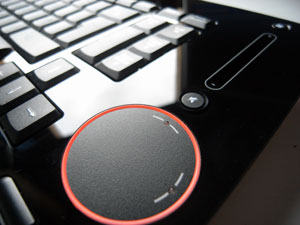 To the right of the keyboard is Logitech's 'TouchDisc' which offers vertical and horizontal scrolling by moving your finger in a circular pattern across the pad. With two small buttons below duplicating left and right mouse clicks and support for 'tap' clicking, you could easily replace your mouse with the keyboard.
Installing
The diNovo comes with its own Bluetooth EDR 2.0 USB mini receiver in case your desktop/laptop lacks Bluetooth, and installation should be a fairly straightforward process of plugging in the receiver, turning on the keyboard and installing the SetPoint software (annoyingly, this required a reboot).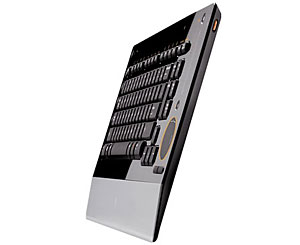 Unfortunately, it turned out to be a troublesome process for us, perhaps because we already had the LX700 keyboard installed on our machine.
After some swapping about with the Logitech Bluetooth receiver and the one we already had installed, we got everything working – but only with both receivers installed (after trawling through Logitech's site we eventually found this: "The diNovo Edge USB Bluetooth receiver will not pair or connect to other Bluetooth enabled devices." Doh!).
For a high end product, we found the documentation rather Spartan – despite the enormous, product dwarfing box, there was only a fold out instruction pamphlet to be found inside.
In part two we start using the keyboard but you'll have to wait until then to find out whether we loved or loathed it.